Dirty Kanza 200 2010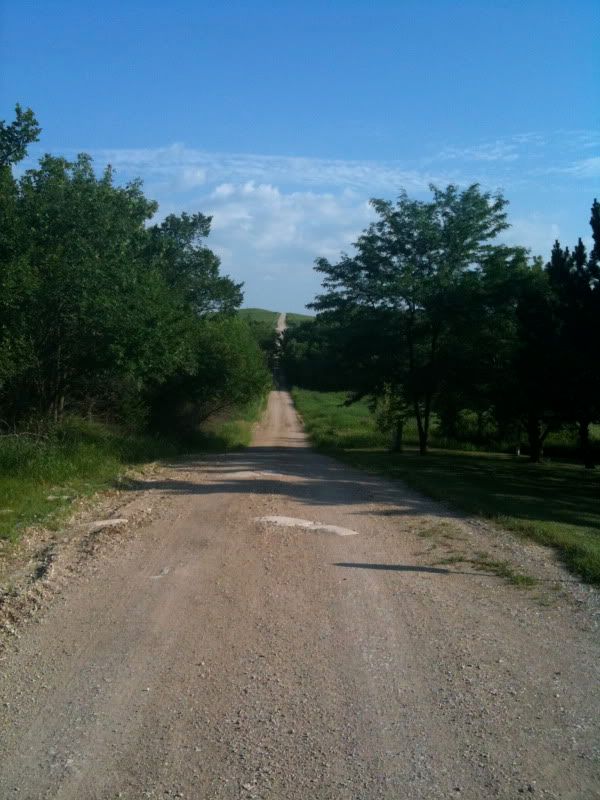 Earlier this year I had convinced myself and a few friends to enter the Dirty Kanza 200, which is a 200 mile self-supported gravel road race in the Flint Hills of Kansas. You are required to self-navigate off a map that you receive at each checkpoint. So as it stands you only know the course that is from the checkpoint where you stand to the next, but not what lies beyond.
race description can be found here:
Heartland Racing
So the crew I roped into this mess was Shannon (aka Mr. Clean), Matt (aka Map.. he actually makes them), and Rob (aka slohio), and we had a stalwart of a volunteer, Foster, who proved to be crucial to the campaign. The Race was set for 6/5 and was starting and ending in Emporia, KS.
As things got closer and plans lined out, Rob decided to fly from Asheville to Dallas, and ride to the event with us. So I was to pick up our transplant on wed, leaving Thursday to line out bikes, supplies, and such. But as Murphy would have it, that was not so. A delayed flight caused Slohio to miss his connecting flight, so he didn't arrive until Thursday. No big deal, but we were forced to scramble to get the last minute items we needed. Eventually, all was completed and we were packed on time - set to leave at 7 am on Friday. We departed mi casa and made our way to pick up Foster, later hooking up with Shannon and Matt north of DFW on I35. The drive... well pretty straight forward: one road no turns, I35 all the way to Emporia.
We enjoyed a relatively non-eventful drive all the way to Emporia. Upon arrival, I confirmed with Matt that our reservations were at the Best Western... which was golden, as the race meeting was there also. The reservations were made by another friend that entered the race, but due to work commitments was not able to attend. I approach the counter at Best Western and say I have a reservation for two rooms and give her the name they are under. To which the lady behind the desks replies: "I am sorry there are no reservations under that name." A quick call to my buddy and a rapid search through his email puts us straight and then it's off to the Holiday Inn. No worries, we have a room and nothing is really that far off in Emporia.
Registration and rider meeting was held from 5 to 8:30 ... so once we were settled we made our way back over to the Best Western. Registration was smooth and I got to see some old friends I had not seen in a while. The night moved on and got to the real reason we were there: the rider meeting. In our group I was the only one that had been to kanza before so I had some idea of what to expect. I was there in 2008 and made it to around mile 165, before I pulled the plug with GI issues. You could say I had a score to settle with the race. The meeting was relatively brief, with lots of recognition of sponsors and contributors, but with little in the way of information regarding the next day's tribulation. In the end we were left with: "don't take a road style hand up, and fill your own bottles." Only thing really that caught my ear was that we were to expect record highs in the high 90's to 100 range, and that the following day it was going to be back in the 80's.
Race start was 6:00am on Main Street in Emporia. I got up early and loaded up to head that way. My normal race nerves were in check, knowing that we had a neutral roll out for a while. Jim C said "go," and we were escorted out by Emporia's finest... right up to the first break in pavement. At that time you welcome the feel of the gravel as it marks the beginning of what you came to contest. Little thought was given to anticipating the feeling I would have exiting the gravel at the end.
First section of the course: Emporia to Cottonwood Falls (60 miles)
Like all races, and this one no different, we took off at a pretty steep pace. The group was together and the pace was moving at a good clip. We all knew that we had 40 miles to head south, and we were riding into a pretty good headwind. I settled in and watched the wheels before me, as going down now would be easy. Settling in the pace continued till the first, of many to come, rolling hills began. I was in the pack along with Matt and Rob. The group was a bit chaotic as many were just trying to hang on, and no clear rhythm was being set. Soon riders were falling off the back, and the group was starting to shake out. At this time the road got a bit rough with a few step ups. I was at the back of the pack and right in line for the domino effect that was about to happen. Somewhere ahead of us one guy went down and then into another and so on. I ended up as the last domino in the stack and went down onto Rob's front wheel bringing us both to a dead stop. I got up and Rob continued on. Had to straighten out the front brake a bit and get back in the game. When I started moving again the gap was bigger than I wanted to attempt, and it was too early in the day to start burning matches. So I sat up and started to settle into my own pace. Matt was still in the pack and Rob was in pursuit mode, and this continued till about mile 40 were we turned from South to due North. I worked with a few other riders, and we caught Rob and his group close to the turn. We were all relieved to feel the change in the wind and the group took a deep breath and collectively slowed down a bit to take a breather. Around this time we caught back onto Matt who had come off the back of the lead pack. It's curious how a group takes on a collective conscious driven by the stronger of the pack all in pursuit of common goal,but at this moment the collective conscious decided to slow it down a bit and enjoy the tailwind into Cottonwood Falls. In a brief downhill we encounter an oncoming truck so I move from the left to the right of the road. In doing so I leave the smooth track and cross no man's land. Kanza is know for the Flint rock that makes up the surrounding hills. So you cross the center of the road with caution and a bit of risk. Well I did not avoid either as punctured the front tire in two spots. Quick inspection with Matt showed two good sized holes, which I put a plug in and aired back up. Then we were back in business and on our way to Checkpoint one. We arrive in Cottonwood falls, check in and get our new maps, then proceeded over to Foster to refuel.
long and persistent: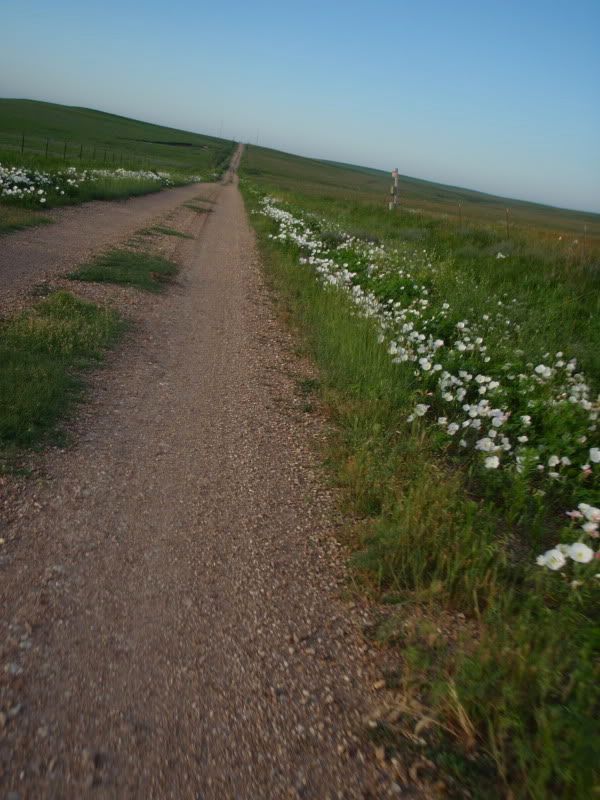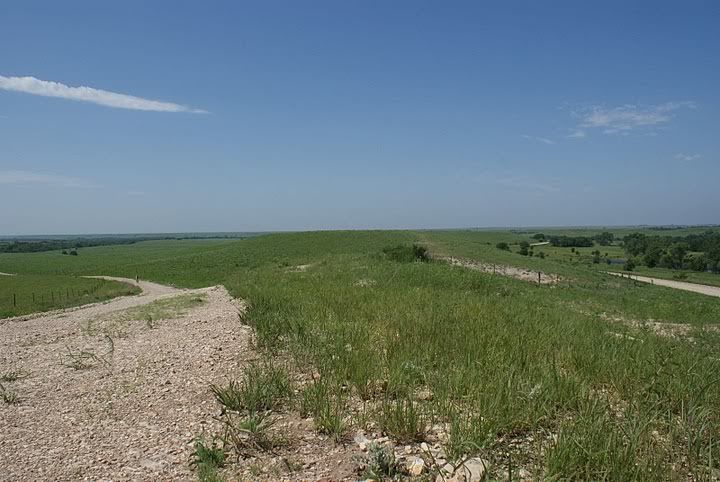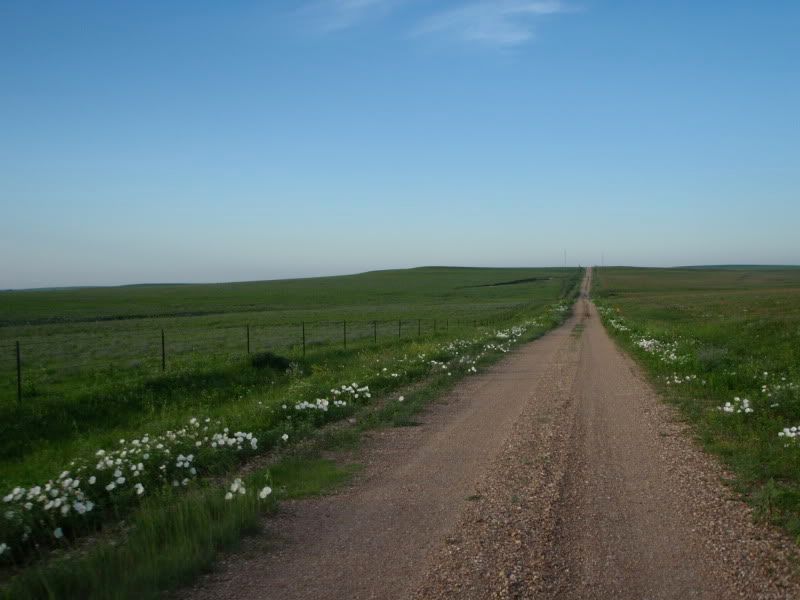 Obligatory Rob self pic: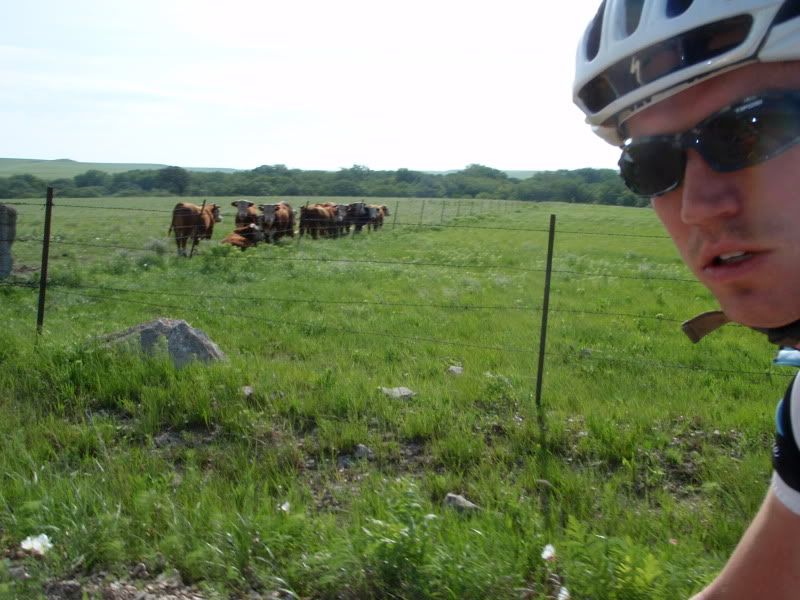 Second Section: Cottonwood Falls to Council Grove (42 miles)
Matt, Rob, and I all leave the checkpoint refueled and ready to move on; with us is one of the Nashville boys. Our direction of travel is mostly North on this leg, which in the back of my mind means we will have to turn back South into that wind. But I push that way back in my head, it's not a time to entertain negative thoughts. This leg was really without anything that was notable - a 42 mile ride with a few rollers thrown in to keep you sane. While the terrain was not all that bad, I was already starting to have troubles with my legs. The twinge of cramping had already set into my quads, and out of the saddle efforts had to be performed with caution. Once again I had to push this out of my mind and focus on the goal. Move forward move to the end! We started as a group, but in time I looked back and Matt was off the back pretty far. I dropped back to check on him, and he made a statement to me about the heat. By this time we were heading into the noon hour, and the day was shaping up to the projected record highs. In time the group moved forward and somewhere between the two cities Matt feel off the pack and went into damage control. Rob and I arrive into Council Grove together. We are greeted by a group of local girls putting on a car wash, oh yea. At that moment I made some metal fried statement about how it would be good for us to just go through sans car. But no matter, on to the checkpoint, new map, Foster, refuel, and start taking inventory of what is to come. I stretched a lot trying to offset the cramping, took on fuel, and put a tube in the front to stop the sore leak. Rob and I waited a bit for Matt, but then made the decision to move on. (Later we would find that Matt pulled in and had succumbed to the heat. He pulled the plug at mile 100 and then went on to support us, for which we are all thankful.)
Matt and I: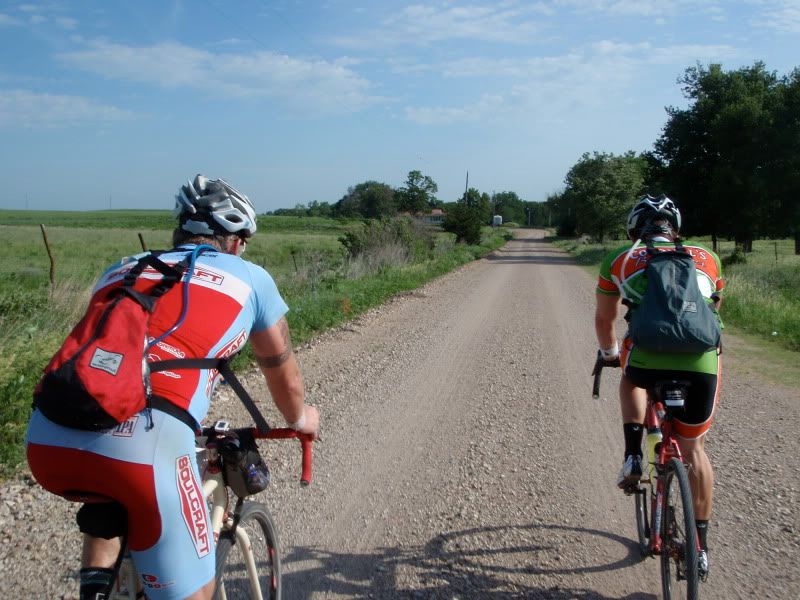 Third Section: Council Grove to Alma (38miles) (*Little Egypt)
Rob and I leave. We both knew that we were entering the fray …to say that section 3 was trying would be a big understatement. This section contains a road you hear a lot about when you discuss Kanza: Little Egypt. I had not seen this section before and it really did not bother me that I had now arrived. In fact, this section was the one I most looked forward to, as I saw it as the crux of what I knew of the course. "Survive Little Egypt then move on to Emporia." With this in mind we pushed on. The direction of this leg was like section two and mostly due North, but this section was riddled with climbing. Nothing on the scale of a mountainous state, but what the climbs lacked in elevation they made up for in number. It seemed that if you were not climbing up you were descending onto the next climb that was plainly present in your vision. You see, there are very few trees on this course, so you are always able to see what lies before you. No mystery here, you are going to climb…a lot. Rob and I proceeded to attempt to dismantle this section, while riding steady. Most of the climbs were longer and you could sit and grind up them. I was feeling a bit better, but the legs were not 100%; cramps would come and go in the early part of this section. I tried to stretch while on the bike, so I could maintain forward movement while managing the impending cramps. I then set a steady pace and went into diesel mode. Head down, digging in, and ticking off the miles. I kept this up for a while. Rob said he was having some trouble with the climbs, but mentally I was focused on the task; I guess I did not acknowledge what he said. I pushed on and after a while I looked back to find that I was alone. Since I found a rhythm I just kept it up as I would regroup with him at Alma. The roads began to get more and more rough, and soon enough there was a sign before me that said: Little Egypt RD. Well this is what I wanted to see, and so as a good friend always says: "how hard can it be?" So I enter the fray and hit the road. Little Egypt. While I would like to spin a tale of how rough it was, I cannot. It was rough, rocky, and had 3 pronounced climbs that were steep, but did it live up to the monster in my head? No. "Hardly traveled by," would be a good way to explain it, and you had to be cautious on the downhills so as to not tear a tire, but otherwise just one more piece to the puzzle. I was able make it through without walking, and soon enough I was back to "normal gravel" and more climbing. In the section between Little Egypt and Alma, I ran across Jason Shellman, from Salida Colorado. We chatted for a while asking the other was doing. The answers were the same: "Tired." Soon enough I pushed on. I later found out that Rob passed Jason who had decided to take a nap under a railroad bridge after we talked. I think he pulled out at Alma. So I pressed on to Alma. Back into the drill as before: new map check, find Foster and Matt, and refuel. Time to eat something and get my head around what I was about to do as I pushed on to the final Leg of DIRTY KANZA.
It's to be noted that at this point Foster and Matt took over. I was fried mentally, and I had a hard time thinking through what I needed to do. The crew was incredible as they fueled me back up, put a cold towel on my head, and Matt put the lights on. Both worked to get food into me as I tried to find shade. All we could come up with for shade was the shadow of the truck. Funny, Rob made a comment the day before about us lying under a truck in the only shade we could find. I stretched more as the cramps in the last few miles had really taken hold. Cramping is an old foe for me; a foe I am far too familiar with. I sat there and worked my legs and ate blueberries by the handful. About 30 minutes or so later, Rob rolls up and looks like the rolling dead...mutters something about head and shade then sits down next to me behind the truck. Not much is said at this point. Words are few while thoughts are many. It was apparent that both of us were entertaining thoughts of pulling out. But I can only speak for myself, I wanted to finish this more than any race I have ever entered. Rob stopped out there on section 3 and went through a breakdown. After this was all done and you talked to other riders, we all experienced this somewhere on the course...mine was to come. Talking with Rob, he wanted to wait around, cool down and hope the temps would drop before the next section. Now I can see the wisdom of that tactic, but at the moment I was still in the Horse mode. Horse mode…all who have ridden with me much know this mode all too well: when I get close to the Barn, I get focused and cannot really pull back. It's time to go home and really it's all I can think about. I was in full blown horse mode so I told Rob I was going to push on. I would see him in time. On the way out to section 4 I get a little turned around and go back to ask one of the promoters, Joel, to clarify the direction. He quickly sets me straight and then proceeds to drop the bomb.. Good luck on the next section. To which I respond "thanks what's before me?" He pauses then says "well the next 25 miles (from 140 to 165 at eskridge) are the Crux of the race." I pause and think many things. But hell what can I do? The good horse heads home. I head out of town.....
(From this section there are no pics as Rob had the camera and we were separated. Not to mention I was in survival mode and had no interest in doing anything but reaching Alma.)
Section 4a: Alma to Eskridge (25 miles)
I feel there is a need to break this section into two parts as they were two very different rides. Departing Alma I head out of town and get about 2 miles outside of town and begin the first of what would be the biggest and hardest climbs of the race, and what would make up the next 25 miles of the course. On the foot of the climb I crossed a concrete bridge. I would not leave this bridge for the next 30 minutes. All at once, as I tried to put effort into the pedals, my legs gave out. Cramps settled into my claves, quads, and if I would have pushed it, hamstrings. Basically all of my legs went in revolt and rendered me unable to move from that bridge. As best as I could I got off the bike without causing further damage, and sat down to let my legs calm down. I was only 2 miles from the checkpoint, but completely incapable of getting on the bike to ride back. I was left to stay there and do the best I could. So I slowly stretched and tried to massage the legs out as best as I could. After about 30 minutes it seemed I could get back up and move. I chose move forward. Back was too easy, and I did not come here to go backwards. I was not able to ride but I could walk. So I walked and I even had to be careful doing that. Short steps and mindful not to overextend my stride. My hamstrings would not tolerate that and all would agree that cramping hamstrings is next to death. I walk…it was a demoralizing walk for sometime. The heat finally had me in its grasp, even a walking pace had me at max effort. I began the journey into the darkest pain cave I have ever encountered. In time, I was able to ride the flats but still walked some of the climbs - always careful not to dig further into my legs and incite another rebellion. I pushed on and things really were not getting better. At about mile 155-160 I hit the wall. I descended down the back side of a climb only to look up at a never ending stair stepped climb...I stopped at the foot of it…I was broken. I knew I could not climb it. Not at the moment. I had two options: move on or stop. I stopped...laid down on a rock under a tree and tried to gather myself back up. I think I laid there for over 45 minutes. I took my phone out and tried to call Foster. I am pretty certain that if I could have gotten him on the phone I would have quit. Fate had its way and there was no answer. So instead I called my wife Elisa, and she did answer: a paraphrased transcript of the brief but invaluable conversation between my wife and I
Hello
Hey are you finished..?
No, I am laying on a rock on the side of the road...
Are you ok?
No, I am in a bad place... more broken than I have been before
Do you want to quit?
No
What do you want to do?
More than anything I want to finish this
THEN GET UP…you can finish
I got up...
Laying down at Mile 155: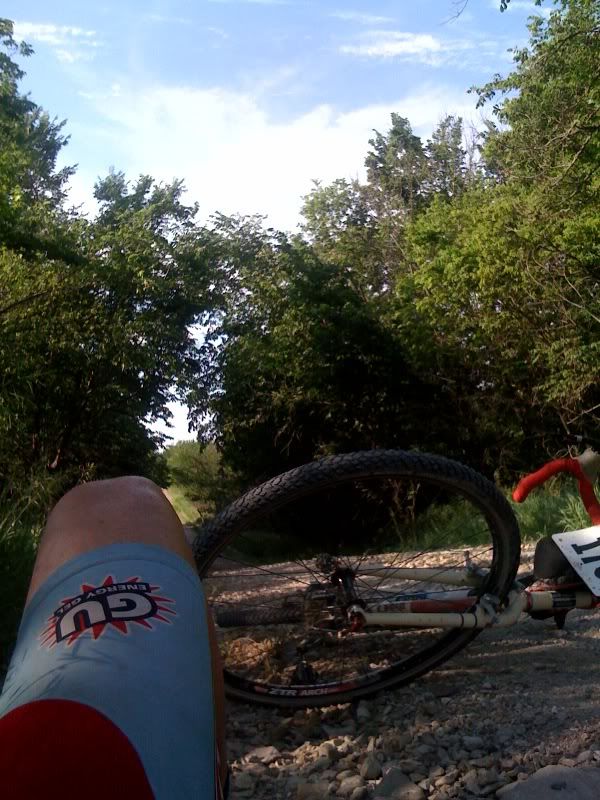 What was waiting on me when I got up: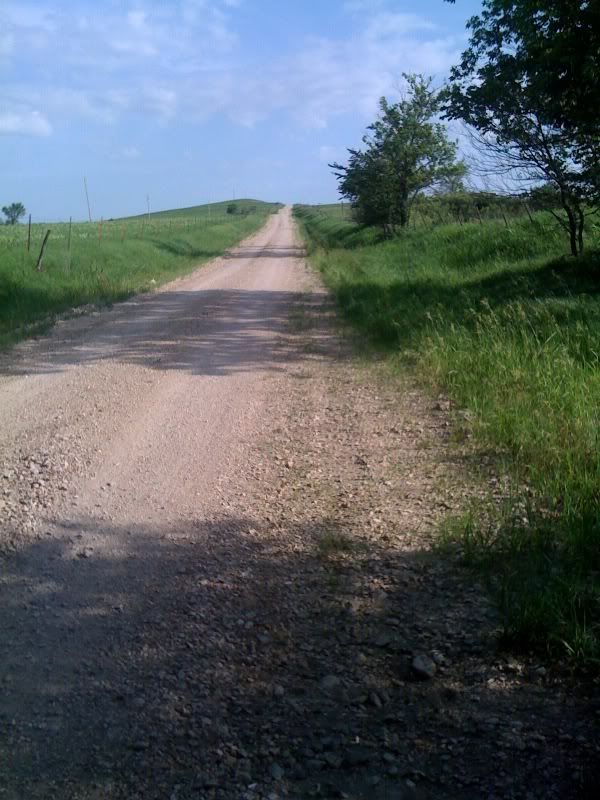 In the time that I laid down the sun had dropped a bit on the horizon, and the temps with it. I got back on the bike and felt better, not great, but better than when I laid down. Before me was that climb, still looming on the horizon. I knew Eskridge was somewhere in the miles ahead of me, with a convenience store and aid. Oddly, when I got back on the bike I was able to climb the hill...the cramps were hinting but no full blown episodes. This was my first hint of luck. Soon the road settled down as did the climbing. In time I could see hints of a city before me. Relief was to be had, if but brief. I hit the pavement and made my way into the town to find more like myself - the rolling dead trying to regain anything to allow for a push to the finish. I pulled up in front of an old building where another rider was sitting. His support crew was there and a very kind woman from their group walked up to me and put a bag of ice on my neck. Kindly I said thank you. As she then began to refill my bottles. I sat there for a while…maybe 20 more minutes just letting that ice melt down on me. Across the street other riders were at the store. Some were refueling, others were pulling out. But one thing we shared in common: we were all fried. Soon thereafter, Rob rolled up and headed over to the store. I am sure I looked to him as he had looked to me at check point 3: a walking dead man. He asked if I was going on... seeing that he was for certain. I was motivated and said "yea I am". Soon thereafter Foster and Matt rolled up. We said our goodbyes. "See you in Emporia." Off to the last section of the race, and our luck will turn.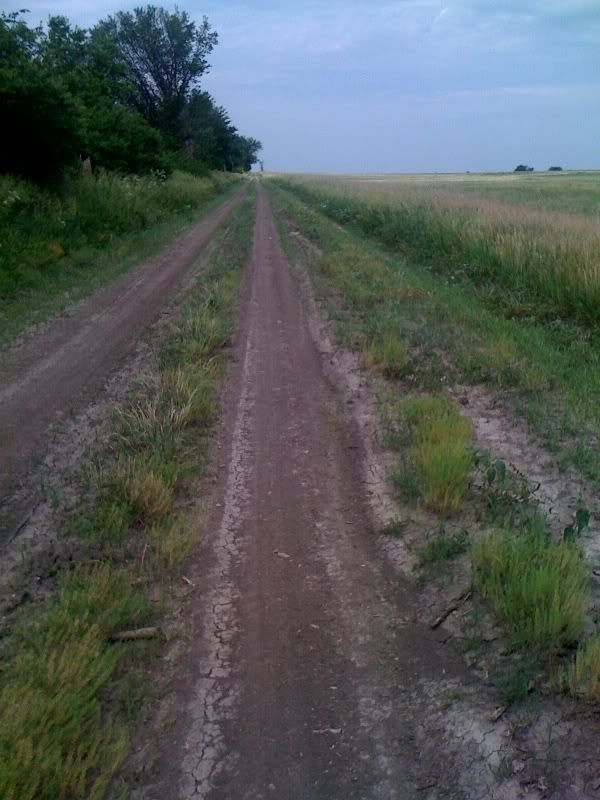 Section 4b: Eskridge to Emporia ( 35 miles)
Rob and I head out of Eskridge. The end is close but there is still a great distance before us. We leave with a group of riders and at first I am uncertain I can keep the pace. I still have fear that I will lock the legs up again and I am not willing to risk a finish now. The sun was setting on the Horizon and with it the temperatures. As the sun descended, we are struck by the beauty of the countryside. During the day I was focused and would not look around but now I could not ignore what was before us. At first we were heading west into the setting sun, knowing that we would eventually turn south, proceeding that direction all the way to Emporia, with little jogs to the east to change roads. At this time Rob and I came alive. We proceeded to move past all that started with us, and soon we were in pursuit mode holding 20 mph pretty easy.
A long road ahead but back in gear: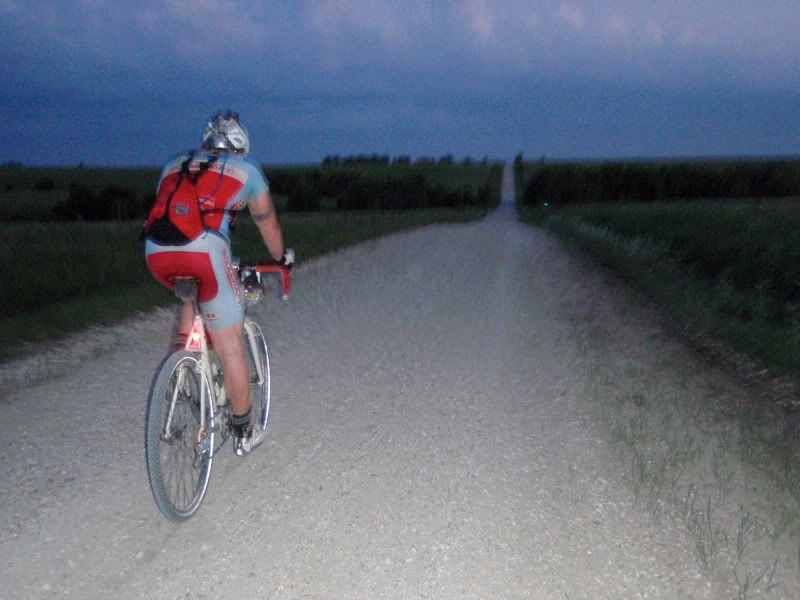 Our luck had turned with the wind. All day we got the benefit of the wind from the south, only to rue the moment that I had to turn back into it, but that was our final blessing. A storm moved in and the wind shifted from the south to the west, for a brief period, to the NORTH! A wind ordered by God himself... as we were riding due south holding mid 20's on gravel/dirt roads without much effort. Both of us riding side by side…our speed steadily increasing, reeling in other riders. No longer did I feel my legs, cramps were not there, now I had the end in sight. Looking off to the east you could see a large plains thunderhead, and probably the reason for our winds, issuing lightening like Zeus himself was escorting us to Emporia. Yea I know melodramatic, but that is really how I felt in the moment: recharged and driven. Night fell and the lights came on. In the south you could see lights from Emporia. You know you are still 15 miles out but it's there on the horizon, and make no mistake, it's finally real and within grasp. So I press on…somewhere in this Rob moved on ahead. Pushing a bigger gear, I was still leery of what I had in my legs so I stayed back for the finish. We continued south...on and on. Until finally you were sent east for a brief time and then turning south again onto pavement. Soon I would see I35 and cross it... Now I know I am close…I can feel it. I take a left after 35, following flashing lights. Then I see the back of the college. I now know I am home. The finish is on the other side of the college...now it's time to turn off and take it all in. I sit up and was I able to see my face I would guess my grin was the biggest I have had in a long time. I hit Main Street and then see the finish. Volunteers and spectators alike line the streets with cowbells in hand. I cross the line, give my number to Jim, and it is over. I finished the Dirty Kanza 200 in 16 hours and 21 minutes.
Matt and Foster greet me. Soon after Rob comes up. Elated but too tired to even think, I remark to them: "that was the hardest thing I have ever done in my life." We head down to the truck. Rob and I sit down on the curb and both agree that finishing was enough. How we did doesn't matter…we finished.
on the way in:
Once the temp fell you could start to see the beauty: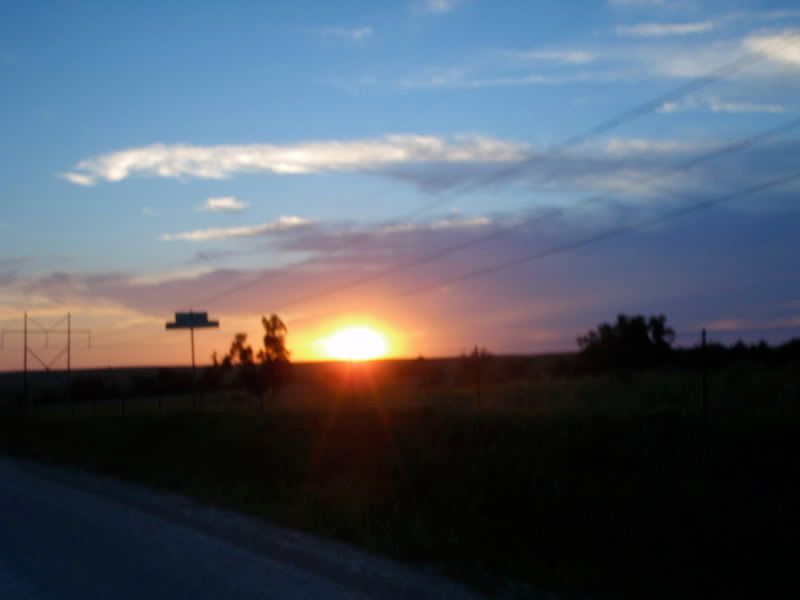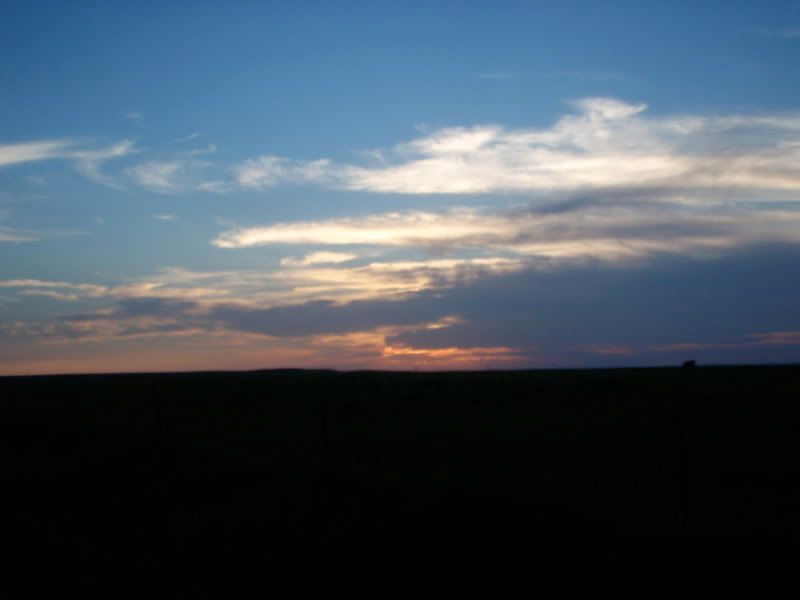 Telling Jim my number it was over: 200 miles in 16 hours and 23 minutes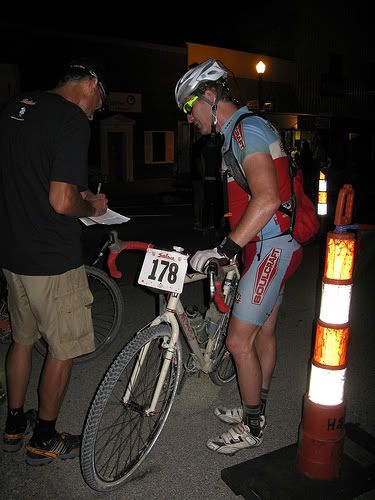 A sweet welcome: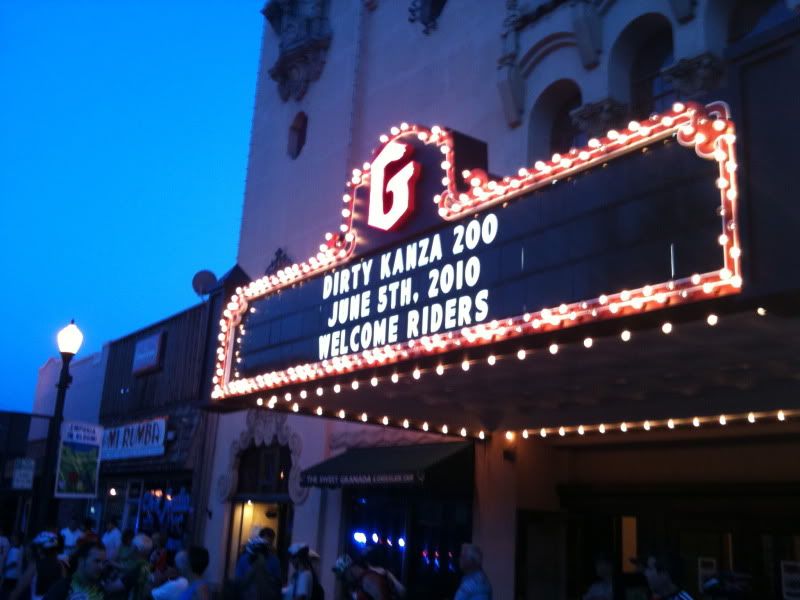 Matt and Foster marshaled us up and took us to the hotel to shower and get something to eat so we can head back to the finish line as Shannon was still out on the course. Shannon finished at 2:11am with a total time of 20 hours and 11 minutes.
I have had some time to reflect on the event and if you had asked me then would I do it again it was a resounding no...But ask me now? Well it would not take much to get me back there.
Thanks to Jim and Joel and all the others that made the Dirty Kanza. And to my friends and family that helped me to my goal. I would also like to thank Grady of
Trail Led
for providing me with Lights that allowed me to get back to Emporia.